SaMD Framework
Guide to developing eHealth and AAL software devices and services following industry best practice and compliant with the regulatory framework.
About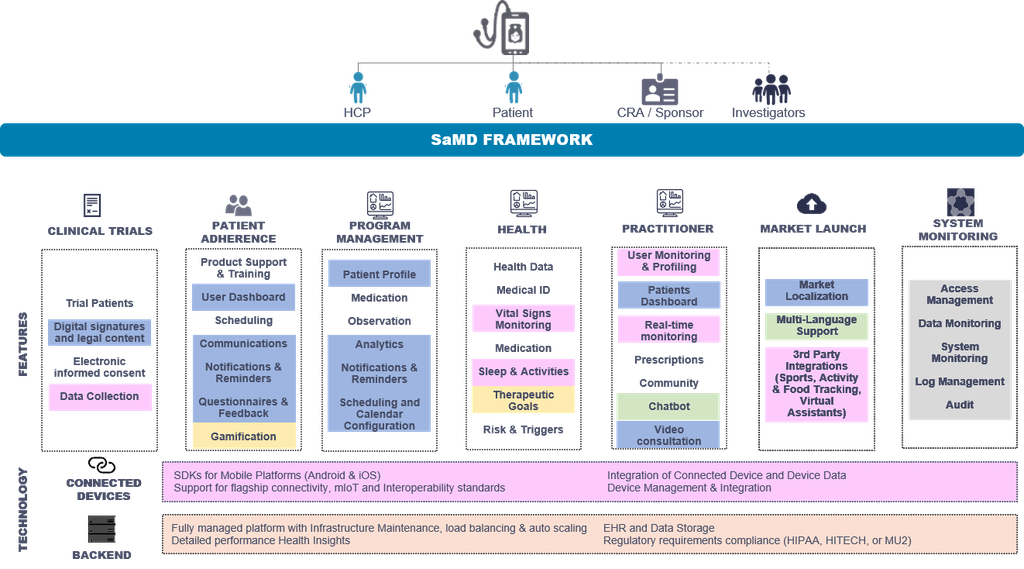 The technological development of a SaMD Framework, Software as a Medical Device, is also combined with this platform (there is already some embryonic work done at Capgemini Engineering that can be consulted here). The current solution presented by Capgemini Engineering, which will serve as support for the SaMD Framework that will be available within the scope of the SH4All project consortium, is based on a structure of various operational and independent modules that are represented in the image.
The framework enables an end-to-end development of software used as a medical device (Software as a Medical Device), according to the class of medical device and product requirements, compliant with the applicable regulation (e.g., ISO 13485:2016; ISO 14971, IEC 62304:2006, IEC 62366:2015, etc.) and based on software industry technologies and methodologies of reference. The SaMD Framework will enable the development, integration, validation and deployment of the medical device (mobile app) with validated testing and validation systems, hence assuring the integrity and solidity of the entire process. This framework will also enable the SaMD's industrialisation and development and production acceleration, through the reuse and continuous improvement of quality processes (plans, specifications, reports, etc.), bringing gains in productivity and better cost-effectiveness.